Spacious and tastefully decorated, this double storey self-catering holiday house is ideal for large families or groups of friends. It boasts 4 bedrooms, 3 bathrooms, a large living area, dining room, fully equipped kitchen and pool table.
 Top floor:
Bedroom 1 has one king-size bed and one single bed with an en-suite bathroom (sleeps 3)
Bedroom 2 has one double bed with an en-suite bathroom (sleeps 2)
Downstairs:
Bedroom 3 has one double bed and one single bed (sleeps 3)
Bedroom 4 has one double bed (sleeps 2)
Two bunk beds in the passage (sleeps 4)
Full bathroom
Refrigerator, Deep freezer, Microwave, Kettle, Toaster, Sandwich toaster, Kenwood Chef mixer, Hob & oven
Pool table
Full DSTV
Portable braai stand
Swimming Pool
Jungle gym and trampoline for kids
Open parking inside the property. Visitors' parking is also available. Automated gate access and armed reaction.
LONG WEEKENDS

(incl. Easter Weekends)
Check-in & Check-out
Check-in
Check-in time is from 15:00. If the room has been cleaned and is ready before 15:00, you may have access to the room earlier. Upon arrival you will be asked for identification. Please have this information ready to facilitate your check-in process.
Check-out
Check-out time is from 05:00 am to 10:00 am at the latest, but if you need a late check-out, then contact our reception during your stay, and we will do our best to accommodate your request.
Keys must be handed in at Reception before departure.
House Rules
General
When unattended, please close the chalet windows and keep doors closed to keep mischievous vervet monkeys out.
Please consider fellow guests and keep the noise levels down. No loud music after 22:00.
Sadly, pets are not permitted on the premises.
Hazardous Goods & Unacceptable Behaviour
Gambling, contraband, prostitution, weapons, explosives, flammable objects, poisons, drugs, animals and pungent food are strictly prohibited on the premises.
Valuables
Living Waters Accommodation or the owners does not accept any liability for loss of or damage to any valuables or property belonging to guests or their visitors. It is therefore the sole responsibility of all guests to make arrangements for adequate insurance coverage on all valuable items prior to arrival at Living Waters Accommodation. This includes but is not limited to, photographic equipment, laptops or other electronic devices, jewellery, cash and vehicles.
Swimming Pool, Jungle Gym & Trampoline
Any guest or their visitors using the swimming pool, jungle gym, trampoline and surrounding area are utilising such facilities entirely at their own risk, acknowledging that they are fully aware that there are no life-saving facilities of any nature provided, and therefore indemnify Living Waters Accommodation and the owners of this facility in full, and shall have no claim of whatsoever nature against Living Waters Accommodation and the owners, including any claim from any injury/bodily harm/death and or/loss of property which could arise from the use of this facility.
Right of Admission Reserved
Living Waters Accommodation at all times reserves the full right of admission and accepts no liability for any loss or damage that may result from the legal and reasonable exercising of such rights.
Minors
Minors are the sole responsibility of the parents, guardian(s) or the person or persons in whose care they are whilst at Living Waters Accommodation or whilst using its facilities.
Smoking
For the comfort of our guests, Living Waters Accommodation is a strictly non-smoking accommodation establishment except for outside guest areas.
Loss or Damage to Living Waters Accommodation
Should Living Waters Accommodation suffer any loss or damage as a result of an act or omission by a guest or visitor of a guest, the guest will remain liable for full reimbursement of such loss or damage incurred and will be billed accordingly.
General Indemnity
Whilst every care has been taken by Living Waters Accommodation to ensure the safety of guests and their possessions whilst enjoying our accommodation, Living Waters Accommodation and the owners do not accept any liability in the event that any loss or damage to persons or property is experienced by a guest and their visitors.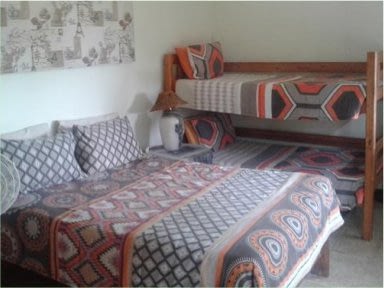 Chalet 1
2 Bedrooms
1 Bathroom
7 Guests
Per Person, Per Night Sharing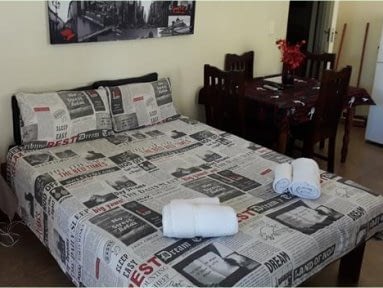 Chalet 2
1 Bedroom
1 Bathroom
4 Guests
Per Person, Per Night Sharing
Chalet 3
2 Bedrooms
2 Bathrooms
10 Guests
Per Person, Per Night Sharing
Chalet 4
1 Bedroom
1 Bathroom
4 Guests
Per Person, Per Night Sharing